Bates Motel
by TVPre · January 14, 2015
Genre: Thriller, Drama, Mystery, Horror 
Summary: This is a prequel of the movie "Psycho", it shows us the early years of Norman Bates. We get to see his strong relationship with his mother and how deep his psychological illness is.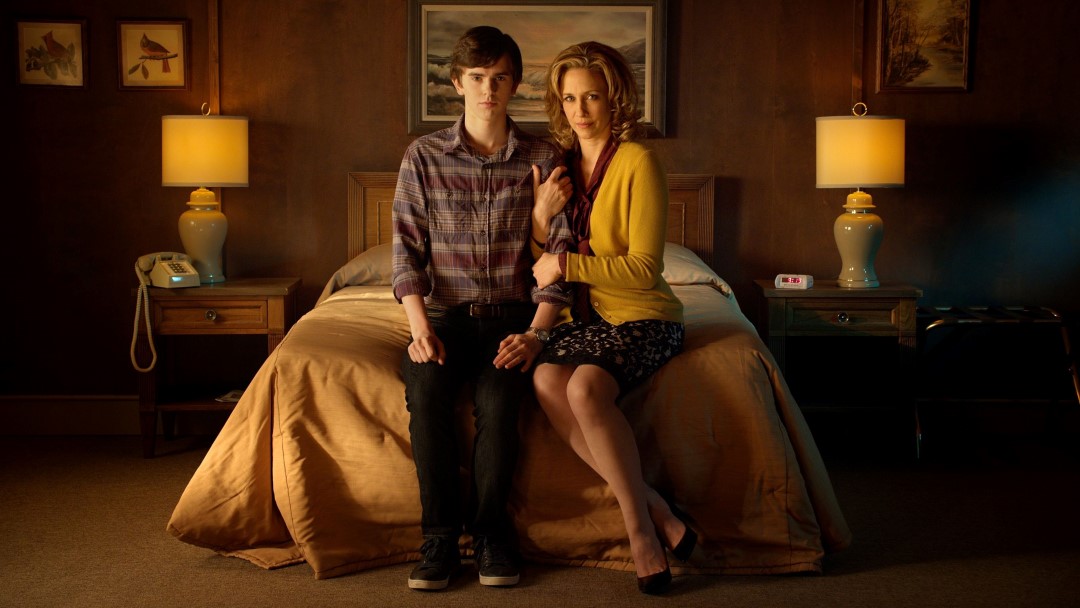 Creator: Anthony Cipriano
Main Cast: Vera Farmiga, Freddie Highmore, Max Thieriot, Olivia Cooke, Nestor Carbonell 
Season 1 Recap
Season 2 Recap
Six months have passed since the death of her husband, Norma Bates takes her youngest son, Norman and relocates in Oregon where she bought a small motel. Norman makes a good impressions on the girls at school, his mother is not fond of him leaving home too often. One night he sneaks out in order to hang out with them, on the same night Summers attacks Norma.
Dylan Bates, the older brother from Norma's previous marriage arrives in the town. Norman spends more time with Emma, Dylan starts at his new job.
Norman escapes Deputy Sheriff Zach Shelby's house thanks to the distraction that his older step-brother provided. The girl he found is still in the basement. Norman tells his mother what he witnessed, she doesn't believe him. She tries to convince him that he sometimes sees things that aren't there.
Norman spends the night with Bradley, he comes home only to find out that his mother is in jail. Her bail is set on $100k. Her sons wanted to help bus she forbid it.
Norma can't accept that Shelby kept Jiao a prisoner, Emma has the intention to call the FBI as soon as possible but Norma urges her to take it slow.
Norma calls 911, Sheriff Romero has a interesting and surprising proposal concerning the deaths of Zack Shelby and Keith Summers.
Emma tells some of the others girls that Norman and Bradley slept together, he gets upset. He leaves school without permission. The principal has a meeting with Norma, he suggests that her son needs professional help.
Zach Shelby's body from is removed from Norma's room, she is certain that it is Jake Abernathy's doing. She receives flowers from an anonymous source, she is certain it is a threat.
Jake Abernathy expects to meet Norma at midnight with $150.000. She goes to Sheriff Romero for help, she is told not to worry, he was going to take care of everything.
The bypass is ahead of schedule, Norma is anxious. Norman obsesses over the death of Miss Watson.
Bradley turns to Norman for help, Norma gets Norman's attention by making him join a play. Norma is very disappointed after she didn't get a part in a community play. She makes a friend in Christine Heldens, the director of the play, she quits because Norma didn't get the part. Norma gets invited to a party where she meets Christine's brother.
Dylan, while drunk makes a lot of revelations, then he passes out. Dylan confronts Norma once again, she swears she never told anyone who his father was.
Norman tells Cody a family secret, Zane's drug war escalates, Dylan fights for his life. Norma makes the bypass stop by making a deal with a mysterious man.
Norma does whatever is necessary to get appointed in the council, her son, Norman tries to get a driving licence. Dylan gets to know his boss.
Dylan is threaten by Zane's thirst for revenge, Norman questions Norma's faith in him. Norman's friendship with Cody reaches a breaking point. Romero attempts to dig out the truth concerning Miss Watson's murder. Norma doesn't want to tell Norman about his blackouts, for that reason he pushes her away.
Norma returns in the early hours, she finds out that nobody slept in Norman's bed. She gets a call from Zack Ford who tells her that if she wants to see her son alive she must convince Dylan to do what he instructed him, kill Zane Morgan. Dylan fails to do it, he informs Zack personally.
Nick Ford is dead, Dylan with the help of Sheriff Romero rescues Norman. While he is safe at home, Norman tells his mother that he recalls killing Miss Watson, she doesn't believe him.
Bates Motel Season 1 Trailer