Downton Abbey
by TVPre · February 24, 2015
Summary: The lives of the Crawley family, the setting takes place just before the beginning of the first World War.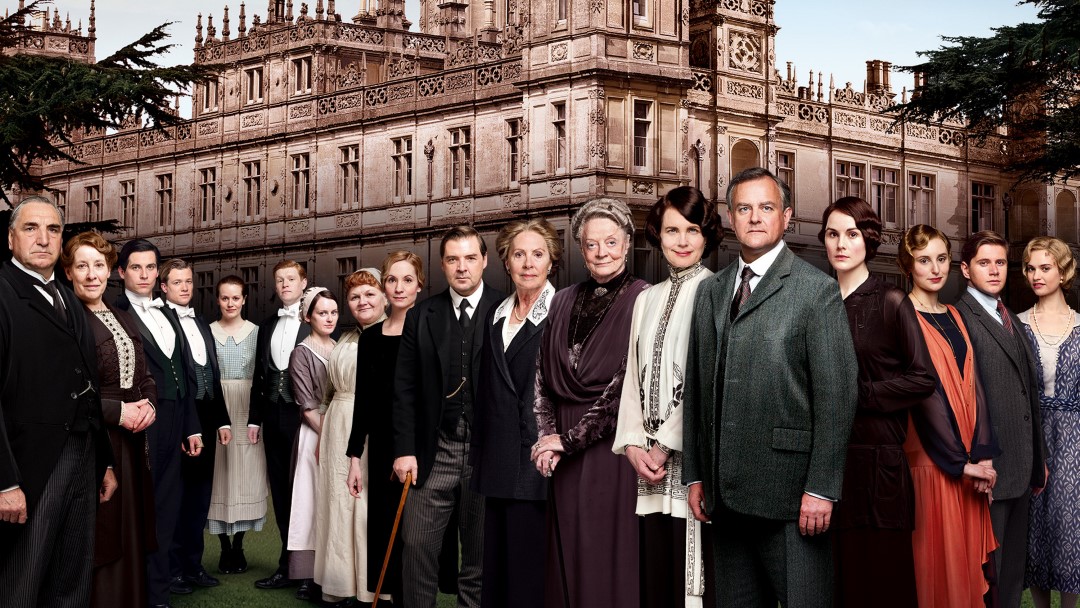 Main Cast: Hugh Bonneville, Jessica Brown Findlay, Laura Carmichael, Jim Carter, Brendan Coyle 
Season 1 Recap
Season 2 Recap
Season 3 Recap
Season 4 Recap
Season 5 Recap
Robert, the Earl of Grantham lives in a big mansion with his three daughters and his American-born wife Cora. The titles of their estate is under threat after news come that Lord Robert's cousin James Crawley died in the sinking of Titanic. The heritage is passed down to the eldest son, if there are no sons then to other males from the closer family. In this scenario the estate after Robert's death would belong to Patrick, Lady Mary's husband.
Matthew Crawley arrives at Downton Abbey, he is the new heir of the Grantham estate and earldom. Matthew is not interested in marrying one of the Grantham daughters, Mary overhears that. Lady Mary informs her mother that Evelyn Napier will be visiting. He is a possible suitor, however he arrives accompanied by a Turkish diplomat who is in London do discuss the Albanian independence.
Mrs. Hughes, the housekeeper is visited by an old admirer, he proposes to her again. Anna is sick, she stays in bed for the whole day, Mr Bates uses that opportunity to visit her. Daisy is asked to go to the fair with Thomas, he did that only to annoy William who is fond of her.
Thomas is caught by Bates for stealing wine from the celler, worried that he might tell on him, Thomas tries to frame Mr Bates for stealing one of Lord Grantham's antique snuffboxes.
Sybil has a lot of interest in politics and women rights, that provokes a lot of disagreements between her and Lord Grantham. Rumors about Lady Mary and the Turk keep growing, it even reaches Carson and the Dowager Countess herself.
Tensions are high following the assassination of the Archduke Franz Ferdinand, the family returns from London with Cora finding out that she is pregnant after 18 years. Lady Rosamund Painswick advises her not to marry Matthew, considering that if it was a boy, the situation changes completely.
Matthew is fighting at the Battle of the Somme, soon he will return to Downton Abbey, he reveals that he is engaged to Miss Lavinia Swire. Upon hearing the news, Lady Mary keeps her composer but afterwards, when alone with Anna, she breaks down and cries over the news of Matthew's engagement.
Plenty of men are away at war, that forces Carson to hire females to serve in the dining room. Lang and Thomas are discharged from war, Lang is hired as Lord Grantham's valet while Thomas starts working at the hospital. Moseley fancies Anna while Thomas takes interest in a young lieutenant suffering from gas blindness.
Downton is turned into a convalescent home, the hospital is unable to accept all the soldiers coming in wounded from the front. Isobel Crawley seems to be in charge, she gives all the orders, that shocks O'Brien who suggests to Thomas that he might help Cora regain more control.
There is going to be a concert in Downton Abbey, the preparations are under way, Ethel flirts with Major Bryant, that gets her fired…later she return and reveals that she is pregnant. Branson reveals to Sybil that he fancies her, once again, while Cora and Isobel's relationship intensifies.
Matthew and William are wounded in France, the shocking news reaches Lord Grantham. William's wound are too great, he will not recover, he asks Daisy to marry him before he dies. Matthew on the other hand is paralyzed, he is never going to be a father nor will he ever walk again.
A Canadian officer with burns on his body reaches Downton Abbey and suggests that he is related to the family. Lord Grantham welcomes him and is shocked when the man reveals that he is Patrick Crawley, the supposedly deceased heir. Furthermore, he reveals that he survived the sinking of Titanic but lost all his memory, he has been living in Canada and while in war, his memory restored.
Matthew begins to feel his legs again, after Lavinia drops a heavy tray, he suddenly gets up and helps her. Major Clarkson reveals that there was always the possibility that Matthew might get his leg use back, he was told so by another physician but was skeptical and didn't want to raise false hope.
Matthew and Lavinia's wedding's preparations are under way, Lady Sybil reveals that she wants to marry Branson, the news shocks everyone, her father is not pleased but his anger and disapproval don't have any affect on Lady Sybil's attentions. Lord Grantham tries to bribe Branson but fails, his intentions seems to be true. Branson and Sybil get Lord Grantham's blessing at the end, the finale ends with Bates being arrested for the murder of his late wife.
Martha Levinson arrives at Downton Abbey, upon her arrival, Cora's mother brought her critical and "revolutionary" way of thinking to Matthew and Daisy's wedding. Lord Grantham find out that the estate is near bankruptcy after his investment in Cora's fortune in the Grand Trunk Railway has failed.
The future of Downton is at stake, they need more money in order to avoid bankruptcy, the Dowager Countess alongside Mary try to show Downton at its finest in order to impress Mrs Levinson and persuade her to give them money. The oven breaks down, Mrs Levinson starts running the party in her own fashion.
Matthew receives a letter from Lavinia's father, he insists he knows that he broke his daughter's heart but nevertheless wants him to have the money to save Downton. Matthew finally accepts it and saves Downton, Lord Grantham insists that the only way he will accept the money is if they become joint owners of Downton.
An aristocrat's home burns down, Branson was seen near the house when it burnt down, the police is after him. Somehow he manages to get to Downton but without Sybil, the Crawleys are outraged…later Sybil also arrives home. Lord Grantham convinces the Home Secretary for Branson to stay in England but if he is to return to Ireland, he will get arrested.
Edith gets an opportunity to write a newspaper column, she is very excited by the opportunity, most of the family don't share her excitement. Mary is angry with Matthew because he discussed an important family matter without her father, Lord Grantham present.
Branson reveals his intention to name his daughter, Cybil and to baptize her as a Catholic, Lord Grantham opposes both ideas, the family on the other hand support Branson and his decisions. In order to repair Cora and Robert's marriage, Violet manages to convince DrClarkson into retracting his statement that Sybil might have survived if she underwent a Caesarean section.
Thomas visits Jimmy's room in midnight, he kisses him just as Alfred walks in, Jimmy and Alfred are equally disgusted and outraged. Bates is released from prison, much to the resentment of Thomas. Lord Grantham is opposed to the idea that Edith becomes a journalist, Violet on the other hand supports her granddaughter, she encourages her to go to London and meet a magazine editor.
Lord Grantham competitive side is shown in Downton Abbey's cricket match against the village team. Violet's great niece Lady Rose MacClare and her husband Hugh, Marquess of Flintshire visit Downton Abbey. Rose seems to be a lot different than one might initially think, a trip to London reveal her to be a wild girl, the drinking and partying type. Matthew and Mary have been separately visiting a doctor in London in order to find out why they can't have children, after they both find out, Mary reveals she has had a small operation, now they look forward in starting a family.
6 months have gone by, Lady Mary mourn Matthew, she feels connected to baby George. Lord Grantham and Branson fail to pay off their death duties, Cora decides to hire the ex maid, Edna. The Dowager Countess helps Mr Molesley find a job after he lost his after Matthew's death. He is hired as a butler but his work is sabotaged by the butler that is already working there, he fears that he might lose his job.
Lady Mary is appointed as Matthew's sole heir in a lost letter. Lord Grantham is not pleased by that, not any more than he is pleased by the fact that Mary wants to work with him and Tom on the estate management, Lord Grantham prefers to work alone. Violet secretly support Mary, she also urges her to learn more about the business, mostly from Tom.
A house party is in order, an Australian performer is invited, Carson feels that she should not be allowed to dine with the family and is to be restricted to her room, Cora is outraged and demands she joins them at the dinner table.
Tom regrets his relationship with Edna, she claims to be pregnant and wants to force Tom to marry her. Mrs Hughes discovers that Edna used contraception, she warns her to be silent, Edna's plan has failed, she leaves Downton Abbey.
Thomas sees Cora's new maid Baxter as a suitable replacement for Miss O'Brien, he also wants her to spy for him. Edith visits a London doctor while Cora persuades Mrs Patmore to exchange their ice-box for a refrigerator.
Molesley begs for his job back, Carson decides not to help him. Mrs Hughes talks to Carson and he decides to re-hire him. Edith finds out that she is pregnant, a band from the jazz club is arranged by Rose to play at Lord Grantham's birthday. Robert decides to leave for USA in pursuit of Cora's brother, he is there to bail the playboy out. Mary persuades Lord Grantham to take Thomas as his valet so that Bates can stay home and support his wife.
Edith wants to give her baby to a farmer, instead Lady Rosamund suggests they leave for Switzerland and give the baby away there. Anna is disturbed that her husband had a day off, he doesn't want to say anything about his whereabouts, it is presumed that he was in New York.
Carson and Robert are both upset by the election of a Labour government. The villagers intent to have a war memorial, they ask Carson to be the head of the committee, Carson says that he will accept only if Robert is the patron. Edith is upset that she will have no part in her daughter's life, Robert feels that Tom's new girlfriend, Sarah Bunting who is a school teacher is beneath him.
There is a fire in Downton, the staff cleans it up, Jimmy leaves Downton, and Thomas decides to reveal Miss Baxter's crime to Molesley. Simon Bricke arrives in Downton, he is there to review a picture, he uses that opportunity to flirt with Cora.
Green has been talking to someone prior to the accident, he also told his fellow-servants that he had been badly treated at Downton, and that he doesn't like Bates. Sergeant Willis finds this out and interviews him, he is satisfied with his answers.
Violet reveals to Isobel that she had a romantic interlude while she was in Russia. Robert rejects Tom and Mary's housing development plan, he thinks it's a too big project and decides to go with a smaller one. Rose's father visits, he announces that he and his wife are getting divorced. Michael seems to have gotten involved with Nazi thugs, Edith asks Rose's father to get to the bottom of it.
Mary and Anna are interviewed by Inspector Vyner of Scotland Yard, he is not persuaded by their answers, Vyner tells Anna not to go away. Mrs Patmore inherits money, she uses that opportunity to buy a cottage to rent out.
Edith finds out that Michael's body has been found. Due to an anonymous letter, the police visits again, this time they interview Miss Baxter, she is threatened to be taken back to prison, she admits her suspicions about Bates and Green but also reveals that she cannot swear to it.
Isobel announces her marriage with Lord Merton. Tony Gilligham insists that Mary still wants him, Charles arranges for them to kiss in public, Tony at last accepts that Mary is not interested.
The atmosphere in London for the wedding is awkward. Rose's parents disapprove of Atticus because he is Jewish, coincidentally, Atticus' parents disapprove of Rose for the same reason. They believe that Atticus should not marry someone out of the religion. The war memorial is unveiled, Robert realizes that Marigold is Edith's daughter.
Downton Abbey Season 1 Trailer