Portlandia
by TVPre · December 16, 2014
Genre: Comedy, Sketch, Satire
Summary: The setting takes place in Portland, Oregon. A group of people that own a feminist bookstore make a wonderful comedy. Everything is presented in an old fashion way and makes fun of the situations and problems that life brings.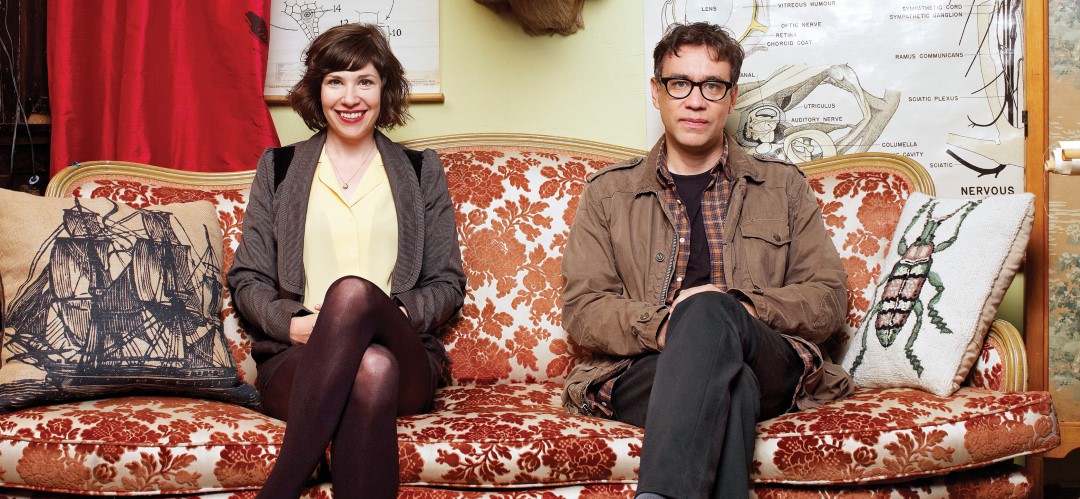 Creator: Fred Armisen, Jonathan Krisel, Carrie Brownstein
Main Cast: Fred Armisen, Carrie Brownstein 
Season 1 Recap
Season 2 Recap
Season 3 Recap
Season 4 Recap
A Portland couple with good intentions want to know if the chicken they are ordering had a nice life. Fred and Carrie are commissioned to write a theme song for the city, the meet the Mayor.
Fred and Carrie hire a maid, they find out later that she is in fact their favorite singer, Aimee Mann.
The Mayor goes missing, Fred and Carrie start searching the town after him. The Portland folks are excited about the music and film festival.
The Mayor want a big league baseball team, he turns to Fred and Carrie for assistance.
Fred and Carrie leave Portland and learn more about love. Tony and Candace have a book signing while Spyke and Irys deem an unconventional wedding.
Everyone starts turning into a DJ, Fred and Carrie leave town. Kath and Dave use the opportunity to take their dog to the park after they rescued him. A bunch of overachieved parents try to get their son into the right preschool.
Portland police force gets a makeover while the city's band has a new member.
Peter and Nance feel old and not sexy. There is an anniversary party at a feminist bookstore. Fred and Carrie want to ban the Olympics.
The Mayor invites Fred and Carrie to a brunch, unfortunately he gets stuck at a bridge. Consequently Fred and Carrie are way back in the line to enter the restaurant, Peter and Nancy are well ahead of them. The line breaks and the feminist bookstore owners get angry when the line starts blocking their door. The wait continues…
Candace's son visits the feminist bookstore while Peter and Nance are having trouble reducing the holiday weight. Bryce and Lisa offer a winter vacation at their newly opened Outlet Hotel.
Spyke and Iris decide to join MTV lovers to take over the TV station from the "tweens". A group of college graduates start protesting and take over the dance floor. Malcolm and Cris want to rename a street in their neighborhood, for that reason they attend a meeting. Kath and Dace want to help, they make an instructional video of how to build a tent.
Fred and Carrie are sent to a door-to-door mission to recruit new members to Portland, this new and exciting mission was orchestrated by the Mayor. Peter and Nance are about to open their Bed and Breakfast. Doug and Claire don't know the meaning of spoiled alert, they manage to ruin few TV shows for their friends at a dinner party. Tony and Candace are trying to fin out more about a bad Yelp review of "Woman and Woman First".
It's Nina's birthday, she goes out her way to throw her a birthday party not to be forgotten any time soon. The party last for the entire day, plenty of activities are included from sunrise yoga to horseback riding. Just to imagine it even better, a young couple was forced to take a loan from the bank in order to be able to attend the extravagant party.
Brendan and Michelle are concerned parents, they form a band and start making kids music. The Mayor is forced to step down after an environmental scandal.
A temporary worker wants to turn the Interim Mayor of Portland position into a full-time job with Fred and Carrie's help. A wedding gets interrupted.
Peter and Nance start practicing of hosting at Bed and Breakfast. Fred and Carrie's relationship gets complicated because of a new roommate. The city gets overrun by art projects.
First time parents get introduced with various child-rearing books. The electricity gets shut down because of unpaid bills from the office of the Mayor.
A young woman is haunted by some very informed ghosts. Kath and Dave make the most of their 15 minutes while Doug and Claire make a big commitment to one another. Sandra finds a soul mate. Eco-terrorists protest a animal testing at a makeup company. Tony and Candace have a car wash. Dave helps Kath to have a good night sleep.
A celery salesman takes celery back on the table, he went through a lot to achieve that. Carrie declares social bankruptcy.
The fourth episode starts with a punk from the 80's waking up from a coma. Nina has some surprising news for Lance.
Carrie starts dating a tax lawyer. Peter takes Nance to the emergency room. Ghavins has a lot of quesions for a singer who's band is touring around Portland. A garage sale is organized by Fred and Carrie.
Fred gets an idea for a music documentary after he was at a concert with Carrie. Peter reunites with his old band and his ex-wife, the lead singer. Toni and Candace coach the dance team of Portland Trail Blazers. Kickstarter videos complete the festival.
Brendan and Michelle decide to try drugs for the first time. Carrie's brother visits with his new boyfriend. Cops pay a visit to Woman and Woman First. Mayor reveals Portland first 3d printer. A minister reminds us that the church is here and available while Santa worries about the future of Christmas. Candace is accompanied by Toni to lead a feminist moon retreat for women.
Portlandia Season 1 Trailer